This was a close race between four or five talented hockey players. For us, what it came down to was Nearis's performance in the postseason. ...
read more
NEPSGIHA 2018-2019 All-NEPSAC Teams
NEPSGIHA 2018-2019 All-NEPSAC Teams ...
read more
Kent Stuns Nobles Late; Wins First Div. I Title
Worcester, Mass. – Kent won its first-ever Division 1 NEPSAC Girls' Hockey Championship with a resounding 4-1 win over a previously undefeated Nobles team. Senior Julia Nearis, who led Division 1 scoring in the playoffs with seven goals in three games, propelled the Lions to the championship and was named MVP. ...
read more
Around the Rinks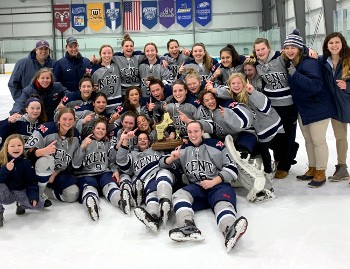 Kent celebrates its first-ever Div. I championship, a game in which they trailed Nobles 1-0 after two, but came out hard in the third, scoring four goals in under ten minutes to win 4-1.
(Photo: Kent School)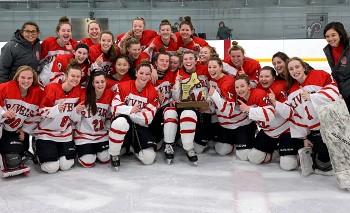 Rivers celebrates its D-II Championship Sunday at the Worcester Ice Center. #2 Rivers edged #1 Brooks, 3-1.
(Photo: Rivers School)