Sun. 11/27/22

Girls' Prep Composite, Nov. 28 - Dec. 4, 2022

Monday, November 28, 2022
Southfield @ Rivers, 5:30 pm (S)

Tuesday, November 29, 2022
Natick @ BB&N, 3:45 pm (S)

Wednesday, November 30, 2022

Berkshire School Jamboree -- One Day Event With Four Teams -- Starts at 3:00 pm

Starting at 3:00 pm, there will be two games taking place simultaneously. Each period, teams will face a different opponent. Kind of like musical chairs. Here are the match ups:
1st Period:
West Rink: Berkshire vs Hotchkiss
East Rink: Williston vs Gunn
2nd Period:
West Rink: Berkshire vs Gunn
East Rink: Hotchkiss vs Williston
3rd Period:
West Rink: Berkshire vs Williston
East Rink: Gunn vs Hotchkiss
Wednesday's Regular Schedule:
Rice (neutral site) Hoosac, 2:00 pm
Northfield Mt. Hermon @ Austin Prep, 2:00 pm
Brewster Academy @ St. Paul's, 3:00 pm
Cushing @ Brooks, 3:00 pm
St. George's @ Pomfret, 3:30 pm
Portledge @ Greenwich Academy, 3:30 pm
Milton @ Thayer, 3:45 pm
Tilton @ Worcester Academy, 4:00 pm
Choate @ Loomis Chaffee, 4:00 pm (S)
North Yarmouth Academy @ Governor's, 4:30 pm
Berwick @ Groton, 4:45 pm
St. Mark's @ Westminster, 5:00 pm
Taft @ Millbrook, 5:15 pm
Rivers @ Middlesex, 6:00 pm
New Hampton @ Noble & Greenough, 6:00 pm

Thursday, December 1, 2022
Rye Country Day @ Rockland Rockies, 4:45 pm

Friday, December 2, 2022
Proctor @ Tilton, 4:00 pm
Holderness @ Berwick, 4:00 pm
BB&N @ Southfield, 4:15 pm
Portledge @ Millbrook, 4:30 pm
Kents Hill @ Middlesex, 5:00 pm
Winchendon @ Cushing, 5:00 pm
Greenwich HS @ Greenwich Country Day, 5:45 pm (S)
Rivers @ Kimball Union, 6:00 pm
The Hill School @ Northfield Mt. Hermon, 6:30 pm

Saturday, December 3, 2022

Pingree Hockey Tournament (Day 1 of 2)
8:00 am -- Austin Prep vs. Newburyport HS
9:30 am -- Masconomet Regional HS vs. Beverly HS
11:00 am -- Newburyport HS vs. Marblehead HS
12:30 pm -- Beverly HS vs. Pingree
2:00 pm -- Marblehead High School vs. Austin Prep
3:30 pm -- Masconomet High School vs. Pingree

The Hill School @ Westminster, 2:00 pm
Noble & Greenough @ Loomis Chaffee, 2:00 pm
Kent @ Berkshire, 2:30 pm
Holderness @ Tilton, 2:30 pm
Proctor @ Vermont Academy, 3:00 pm
Greenwich Academy @ Canterbury, 3:00 pm
North Yarmouth Academy @ Frederick Gunn School, 3:00 pm
Kimball Union @ Groton, 4:00 pm
Kents Hill @ Brooks, 4:00 pm
New Hampton @ Milton, 4:00 pm
BB&N @ Pomfret, 4:00 pm
Hotchkiss @ Northfield Mt. Hermon, 4:15 pm
Deerfield @ St. Mark's, 4:30 pm
Tabor @ Cushing, 4:30 pm
Governor's @ Hebron, 4:30 pm
Choate @ Lawrence Academy, 4:45 pm
Lawrenceville @ Taft, 5:00 pm
Williston Northampton @ St. Paul's, 5:00 pm
Winchendon @ Brewster Academy, 5:00 pm
Portsmouth Abbey @ Worcester Academy, 5:30 pm
Southfield @ Thayer, 5:30 pm
Millbrook @ Hoosac, 6:30 pm

Sunday, December 4, 2022

Pingree Hockey Tournament (Day 2 of 2)
9:00 am -- 3rd Place Game
10:30 am -- 2nd Place Game
12:00 pm -- 1st Place Gaame

Lawrenceville @ Choate, 11:00 am
The Hill School @ Kent, 12:30 pm
Canterbury @ Pomfret, 1:00 pm




Thurs. 11/24/22



This Thanksgiving, a Time to Give Back

If there's one thing we're most thankful for on this -- and every day -- it's USHR readers. Every single one of you, past, current, and future. Without you, there would be no USHR. Simple as that. So, a heartfelt thank you to all.

For a number of years, I've had this idea kicking around my head. It's hard, at any prep school event, to avoid noticing the number of late-model luxury automobiles crowding the parking lots. Not all the cars, by any means, but... quite a few. It seems clear to this typist that there are people out there who can -- to varying degrees -- pay for their children's private school education without giving up much in the way of creature comforts. For others, this is less true, often dramatically so.

This winter Ukraine is in a desperate situation. As Putin's missiles systematically destroy the country's infrastructure, thousands are left in the dark, without heat, electricity, running water, and adequate health care. On top of all that, Ukrainians live under the specter of missiles raining down on their cities, while the country's youth puts their lives on the line, fighting for their country's sovereignty. In short, Ukraine is facing a brutal winter, the likes of which haven't been seen in Eastern Europe since World War II.

So here's an idea: Why not put a big contribution jar out on a table near the entrance to every prep school rink? For every game, or at least every game for which a large crowd is likely to show up. The Christmas tournaments present an opportunity. If someone has a mere nickel in his or her pocket, or a spare $100, drop it in. No hard sell, either. For as long as this typist can remember there have been Dana-Farber/Jimmy Fund boxes scattered around Fenway Park, mostly affixed to columns on the main concourse. No one's watching, but a good number of fans make a point of dropping something in -- sometimes a little; sometimes a bit more. It adds up.

For prep schools, an equivalent might be a box or a simple jar, unmonitored, into which money could be dropped.

Whether or not this idea becomes reality, here are a couple of links to use as a personal guide to helping Ukraine in its time of crisis.

https://www.forbes.com/advisor/personal-finance/donate-relief-to-ukraine/

https://impactful.ninja/best-charities-for-ukraine/

Happy Thanksgiving!


Thurs. 10/20/22
Welcome to 2022-23!
The 2022-23 Girls' Prep Pages are now officially open.
All of last season's news, rosters, schedules, and stats have been archived, and new material will start going into this season's pages immediately, as coaches begin to upload their teams' schedules.

We want to remind new readers of a couple of features we introduced over the last several seasons. Players' career prep statistics, for one. If you click on a player's name on the roster you will see her final stats for all the seasons she has played prep hockey and, of course, running totals for the current season. If you click on the year, say 2019-20, it will show a player's game-by-game statistics. We don't have as much of this info on the girls' side as on the boys' side -- nothing remotely as close, actually -- but the girls' game is always growing, and we can dream, right? It's simply a matter of coaches deciding it's worth the time it takes to do it.

It is also possible to download rosters, schedules, and all statistics pages in PDF form, giving pages a cleaner look when printed out. You may be familiar with them. Many prep schools use them on the rosters you pick up on your way into the rink.

Pretty much all columns are sortable. Just click on the top of the column. This is useful for, among other things, separating scoring and goaltending leaders by school, birth year, position, points, etc.

We've also done a lot of work on the back end, mainly behind-the-scenes stuff that you probably won't notice beyond the fact that the site will run more smoothly than ever. We endeavor to make these improvements each season.

Once we have a reasonable number of schedules posted, we will begin to keep you updated on which of them are actually up, so you won't have to waste your time looking for those that have yet to be uploaded.

We will also be posting jamboree and holiday tournament schedules. Look for those to start going up over the coming weeks as well. Note to coaches: please send 'em along, to cwarner@ushr.com

We also will accept some select advertising for the upcoming season and beyond. We don't want to clutter the site with them, but it gives us a little more money to buy, for example, a new auto transmission. Please write ads(at)ushr.com for more info, as well as rates.

Of course, we will have the news coverage you have come to expect. More, hopefully. We are looking for reliable reporters. Again, contact us.
Welcome to the new season. We're glad to be here. We're glad you're here. And, as always, we thank you for your support.

Chris Warner
Editor/Publisher
U.S. Hockey Report
Cambridge, Mass.
Around the Rinks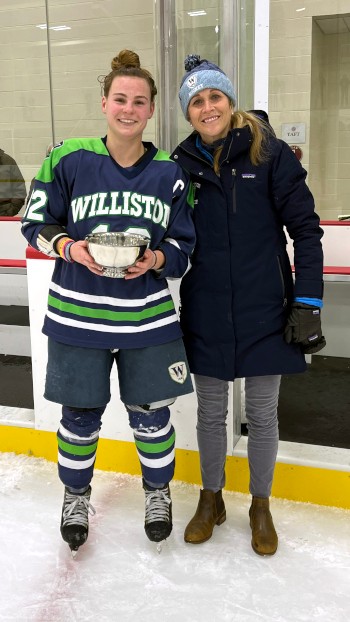 Emily Crovo '23, Williston forward and Elite 8 Tournament MVP, with head coach Christa Talbot Syfu.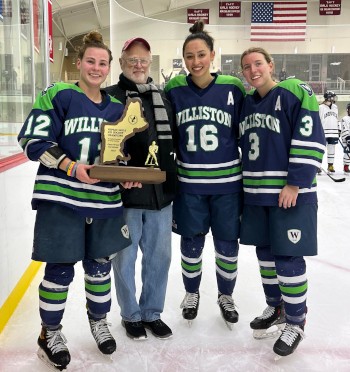 Williston captains Emily Crovo, Katherine Kang, and Ava DeCoste with Chuck Vernon.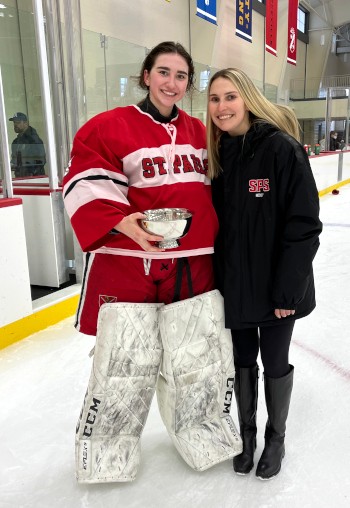 Ally Martiniello '24, St. Paul's goaltender and Large School MVP, with head coach Kelli Mackey.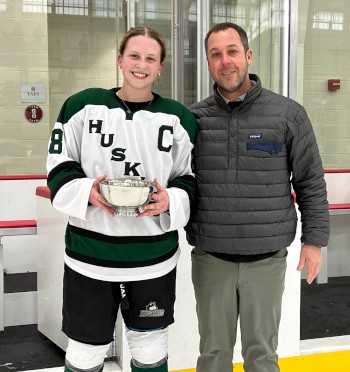 Julia Pellerin '23, New Hampton forward and Small School MVP, with head coach Craig Churchill.