Sun. 2/7/16

Girls' Prep Composite, Week of Feb. 8, 2016

Mon. Feb. 8
Winsor @ Middlesex, 4:45 pm

Wed. Feb. 10
Kent @ Canterbury, 2:00 pm
Exeter @ Kimball Union, 2:00 pm
Millbrook @ Gunnery, 2:30 pm
Hotchkiss @ Loomis-Chaffee, 3:00 pm
St. Paul's @ Middlesex, 3:00 pm
Taft @ Greenwich, 3:00 pm
Winchendon @ Southfield, 3:00 pm
Vermont Academy @ Tilton, 3:00 pm
St. Mark's @ Milton, 3:15 pm
Thayer @ Governor's, 3:15 pm
Tabor @ Andover, 3:30 pm
Williston-Northampton @ Choate, 3:30 pm
Noble & Greenough @ Groton, 3:45 pm
Holderness @ Brooks, 3:45 pm
Brewster Academy @ Proctor, 4:00 pm
Stanstead College @ New Hampton, 4:00 pm
North Yarmouth Academy @ Newton CD, 4:00 pm
St. George's @ BB&N, 4:00 pm
Berkshire @ Pomfret, 4:00 pm
Worcester Academy @ Rivers, 4:30 pm
Deerfield @ Westminster, 4:30 pm
Pingree @ Portsmouth Abbey, 4:30 pm
Berwick @ Hebron, 4:45 pm
Cushing @ Lawrence Academy, 5:30 pm

Thurs. Feb. 11
Berwick @ Kents Hill, 5:45 pm

Fri. Feb. 12
Brewster Academy @ New Hampton, 4:00 pm
Newton CD @ Winsor, 4:00 pm
St. Paul's @ Tabor, 4:15 pm
Vermont Academy @ Northfield - Mt. Hermon, 4:30 pm
BB&N @ Noble & Greenough, 5:30 pm
Governor's @ Andover, 6:00 pm
Southfield @ Proctor, 6:00 pm

Sat. Feb. 13
Cushing @ Northfield - Mt. Hermon, 1:00 pm
Kingswood-Oxford @ Gunnery, 1:30 pm
St. Mark's @ Rivers, 2:00 pm
Hotchkiss @ Taft, 2:30 pm
Governor's @ St. Paul's, 2:30 pm
Tabor @ Pomfret, 2:30 pm
Kimball Union @ Williston-Northampton, 2:30 pm
Portsmouth Abbey @ Rye Country Day, 2:45 pm
New Hampton @ Exeter, 3:00 pm
Noble & Greenough @ Westminster, 3:15 pm
Brooks @ St. George's, 3:30 pm
Canterbury vs. Hebron, 3:30 pm -- at Phillips Exeter
Middlesex @ Milton, 3:30 pm
Holderness @ Proctor, 3:45 pm
Deerfield @ Berkshire, 4:00 pm
Kents Hill @ Winchendon, 4:00 pm
Millbrook @ Kent, 4:30 pm
Vermont Academy @ Worcester Academy, 5:00 pm
Lawrence Academy @ Thayer, 5:30 pm
Choate @ Loomis-Chaffee, 7:00 pm

Sun. Feb. 14
Winchendon @ Hebron, 12:00 pm
Canterbury vs. Kents Hill, 12:30 pm -- at Phillips Exeter
Lawrenceville @ Hotchkiss, 1:00 pm



Sun. 1/31/16

Girls' Prep Composite, Week of Feb. 1, 2016

Mon. Feb. 1
Newton CD @ Beaver Country Day , 4:15 pm
Tilton @ New Hampton, 4:30 pm
Gunnery @ Hotchkiss, 4:45 pm

Tues. Feb. 2
LaSalle Academy @ Portsmouth Abbey, 6:00 pm

Wed. Feb. 3
Kimball Union vs. Kents Hill, 1:45 pm -- at Phillips Exeter Academy
Berkshire @ Hotchkiss, 2:00 pm
Proctor @ Vermont Academy, 2:30 pm
Loomis-Chaffee @ Gunnery, 3:00 pm
Tabor @ Rivers, 3:00 pm
Westminster @ Pomfret, 3:00 pm
Groton @ Middlesex, 3:00 pm
Holderness vs. Hebron, 3:00 pm -- at North Conway, NH
Millbrook @ Kingswood-Oxford, 3:00 pm
Andover @ Exeter, 3:00 pm
Southfield @ Worcester Academy, 3:15 pm
New Hampton @ Cushing, 3:30 pm
Lawrence Academy @ Milton, 3:30 pm
St. Paul's @ St. Mark's, 3:30 pm
Thayer @ Brooks, 3:30 pm
Stanstead College @ Tilton, 3:30 pm
Noble & Greenough @ St. George's, 4:15 pm
Greenwich @ Kent, 4:30 pm
Taft @ Williston-Northampton, 4:30 pm
Northfield - Mt. Hermon @ Choate, 4:45 pm
Berwick @ North Yarmouth Academy, 4:45 pm
Lawrenceville @ Canterbury, 5:00 pm
Governor's @ BB&N, 5:30 pm
Beaver Country Day @ Pingree, 5:30 pm
NEWHL @ Deerfield, 6:15 pm (S)

Fri. Feb. 5
Rye Country Day @ Greenwich, 3:30 pm
New Hampton @ St. Paul's, 4:30 pm
Northfield - Mt. Hermon @ Cushing, 5:00 pm
Winsor @ Pingree, 5:00 pm
Rivers @ Milton, 5:00 pm
Berwick @ Proctor, 5:30 pm
Hebron @ Middlesex, 5:30 pm
Lawrence Academy @ Tabor, 6:30 pm

Sat. Feb. 6
North Yarmouth Academy @ Holderness, 12:00 pm
Kingswood-Oxford @ St. George's, 1:00 pm
New Hampton @ Andover, 1:15 pm
Worcester Academy @ Winchendon, 2:00 pm
Middlesex @ Southfield, 2:00 pm
Pingree @ Tilton, 2:30 pm
Milton @ Thayer, 2:45 pm
Brooks @ Noble & Greenough, 3:15 pm
Exeter @ BB&N, 4:00 pm
Tabor @ St. Mark's, 4:15 pm
Groton @ Governor's, 4:45 pm
Proctor @ Kimball Union, 6:00 pm
Hill School @ Northwood, 8:00 pm

Sun. Feb. 7
Hill School @ Northwood, 1:00 pm

Mon. Feb. 8
Winsor @ Middlesex, 4:45 pm



Sun. 1/24/16

Girls' Prep Composite, Week of Jan. 25, 2016

Mon. Jan. 25
Taft @ Gunnery, 5:00 pm
Andover @ BB&N, 5:15 pm
St. George's @ Portsmouth Abbey, 6:30 pm

Wed. Jan. 27
Hotchkiss @ Millbrook, 2:30 pm
Tilton @ Exeter, 2:30 pm
Thayer @ Rivers, 3:00 pm
Worcester Academy @ Brooks, 3:30 pm
Andover @ Cushing, 3:30 pm
Choate @ Kent, 3:30 pm
Williston-Northampton @ Westminster, 3:30 pm
Canterbury @ Rye Country Day, 3:30 pm
Vermont Academy @ Stanstead College, 4:00 pm
Gunnery @ Berkshire, 4:00 pm
Winchendon @ New Hampton, 4:30 pm
St. Paul's @ Northfield - Mt. Hermon, 4:30 pm
St. George's @ St. Mark's, 4:30 pm
Berwick @ Newton Country Day, 4:30 pm
Groton @ Pingree, 4:30 pm
Holderness @ Kimball Union, 4:30 pm
Portsmouth Abbey @ Kingswood-Oxford, 4:30 pm
Taft @ Loomis-Chaffee, 4:45 pm
Proctor @ North Yarmouth Academy, 4:45 pm
Deerfield @ Pomfret, 4:45 pm
Southfield @ Governor's, 5:00 pm
Lawrence Academy @ Noble & Greenough, 5:30 pm
Wyoming Seminary @ Hill, 6:15 pm

Thurs. Jan. 28
Kingswood-Oxford @ Canterbury, 5:30 pm

Fri. Jan. 29
Winchendon @ St. Paul's, 3:30 pm
Winsor @ Newton Country Day, 3:45 pm
Vermont Academy @ New Hampton, 4:00 pm
Lawrence Academy @ Groton, 4:30 pm
Cushing @ Noble & Greenough, 5:00 pm
Holderness @ Worcester Academy, 5:15 pm
Exeter @ Berwick, 5:30 pm
Kimball Union @ Governor's, 6:30 pm
Brewster Academy @ Loomis-Chaffee, 7:00 pm

Sat. Jan. 30
Brewster @ Choate, 12:00 pm
Beaver Country Day @ Portsmouth Abbey, 1:30 pm
Worcester Academy @ Kingswood-Oxford, 2:00 pm
BB&N @ Cushing, 2:00 pm
Tilton @ Governor's, 2:00 pm
Thayer @ Middlesex, 2:00 pm
Loomis-Chaffee @ Greenwich, 2:30 pm
Williston-Northampton @ Hotchkiss, 2:30 pm
Pomfret @ Northfield - Mt. Hermon, 2:30 pm
Hebron @ Exeter, 3:00 pm
Vermont Academy @ Winchendon, 3:00 pm
New Hampton @ St. Mark's, 4:00 pm
Westminster @ Tabor, 4:00 pm
Southfield @ Brooks, 4:00 pm
Groton @ Holderness, 4:00 pm
Deerfield @ Andover, 4:00 pm
Winsor @ Berwick, 4:30 pm
Millbrook @ Berkshire, 4:30 pm
Hill School @ Canterbury, 6:00 pm
Kent @ Taft, 7:00 pm

Mon. Feb. 1
Newton CD @ Beaver CD , 4:15 pm
Tilton @ New Hampton, 4:30 pm
Gunnery @ Hotchkiss, 4:45 pm



Around the Rinks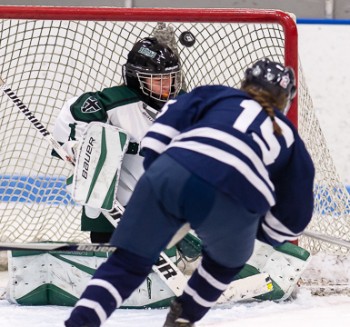 Junior Becca Gilmore beats Brooks goalie Caroline Kukas, giving Nobles the lead with 16 seconds left in the first period en route to a 7-2 victory on Feb 6.
(Photo: Dave Arnold Photography)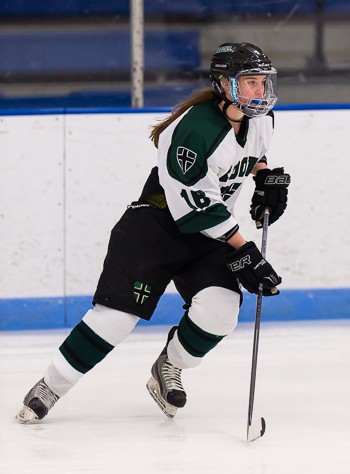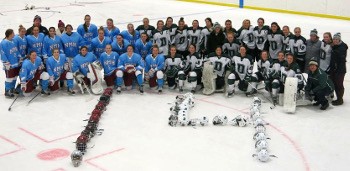 NMH and Deerfield join together in support of Denna Laing.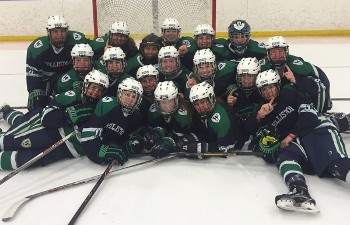 Williston-Northampton celebrates after edging BB&N 1-0 in the 2016 Winchendon Invitational Championship Game.