Sun. 3/1/15

2015 Girls Prep Tournament Seeding

Here is the seeding for the 2015 girls tournament:

D-I
1. Kent (Kent and Williston tied for first, Kent wins tiebreaker)
2. Williston
3. Nobles
4. Tabor
5. Pomfret
6. St. Paul's
7. Choate
8. Loomis

D-II
1. Rivers
2. Worcester
3. Southfield
4. Berwick
5. Proctor
6. Canterbury
7. St. George's
8. Gunnery


Mon. 2/23/15

Girls Prep Composite, Week of Feb. 23, 2015
Mon. Feb. 23
Beaver Country Day @ Newton CD, 4:00 pm
Winchendon @ Hebron, 4:30 pm
Exeter @ Berwick, 4:45 pm
Berkshire @ Canterbury, 5:00 pm
Greenwich @ Millbrook, 5:00 pm
Cushing @ Andover, 5:00 pm
Gunnery @ Taft, 5:00 pm
New Hampton @ Brewster Academy, 5:30 pm

Wed. Feb. 25
Holderness @ Kents Hill, 12:00 pm
Kent @ Gunnery, 2:15 pm
BB&N @ Middlesex, 2:30 pm
Taft @ Berkshire, 2:30 pm
New Hampton @ Kimball Union, 2:30 pm
Pomfret @ Milton, 3:00 pm
Groton @ Thayer, 3:15 pm
Millbrook @ Rye Country Day, 3:30 pm
Vermont Academy @ Brewster Academy, 3:30 pm
Hotchkiss @ Choate, 3:30 pm
Winchendon @ Exeter, 3:30 pm
Cushing @ Tabor, 3:45 pm
Westminster @ Andover, 4:00 pm
Loomis-Chaffee @ Northfield - Mt. Hermon, 4:00 pm
St. George's @ St. Paul's, 4:00 pm
Williston-Northampton @ Deerfield, 4:15 pm
St. Mark's @ Brooks, 4:30 pm
Hebron @ Tilton, 4:30 pm
Pingree @ Berwick, 4:30 pm
Governor's @ Noble & Greenough, 4:45 pm
Lawrence Academy @ Rivers, 5:00 pm

Thurs. Feb. 26
Greenwich @ Kingswood-Oxford, 5:00 pm

Fri. Feb. 27
Worcester Academy @ Greenwich, 3:30 pm
Canterbury @ Gunnery, 4:00 pm
Rivers @ Southfield, 4:00 pm
Holderness @ Tilton, 4:00 pm
New Hampton @ Proctor, 4:30 pm
Thayer @ BB&N, 4:45 pm
Winchendon @ Williston-Northampton, 5:00 pm
Pomfret @ Tabor, 6:30 pm

Sat. Feb. 28
Cushing @ Choate, 1:00 pm
Thayer @ Tabor, 1:30 pm
St. Mark's @ Groton, 2:00 pm
Andover @ Exeter, 2:00 pm
Deerfield @ Loomis-Chaffee, 2:00 pm
Milton @ Noble & Greenough, 2:00 pm
Holderness @ New Hampton, 2:00 pm
Governor's @ Brooks, 2:00 pm
St. George's @ Middlesex, 2:00 pm
Worcester Academy @ Canterbury, 2:30 pm
Williston-Northampton @ BB&N, 2:30 pm
Northfield - Mt. Hermon @ Proctor, 2:30 pm
Kimball Union @ Vermont Academy, 2:30 pm
Winchendon @ Pomfret, 2:30 pm
Lawrence Academy @ St. Paul's, 3:15 pm
Tilton @ Rivers, 3:30 pm
Brewster Academy @ Berkshire, 4:00 pm
Kingswood-Oxford @ Millbrook, 4:30 pm
Hotchkiss @ Taft, 4:45 pm
Kent @ Westminster, 7:00 pm

**End Of Regular Season**


Sun. 2/22/15

Girls Prep Rankings as of Feb. 22

Here are our unofficial Girls Prep Rankings as of Sun. Feb. 22. Best of luck to all teams in their run to the playoffs.

Div. I
1. Williston
2. Nobles
3. Kent
4. Pomfret (tie)
St. Paul's
6. Tabor
7. Westminster
8. Choate
9. Loomis
10. Andover

#1-3 is very close. #6-9 are very tight, too.
Tabor's fortune depends on two games:
Tabor-Pomfret make-up game, and St. Paul's vs. Lawrence Academy

Div. II
1. Rivers
2. Worcester Academy
3. Southfield
4. Berwick (tie)
Canterbury
6. St. George's
7. Proctor
8. Gunnery
9. Brooks
10. KUA

# 6 and #7 are very close, #8-10 are very tight, too.


Around the Rinks
Williston, 2-0 winners over BB&N, celebrates after winning the Winchendon Invitational on Sun. Jan. 3rd.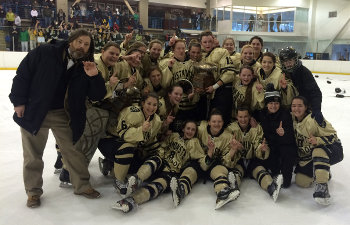 Westminster, 3-0 winners over Nobles, celebrates after winning the Div. I prep crown on Sun. March 2nd at Cushing.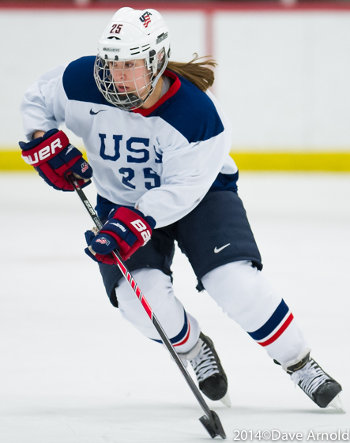 Alex Carpenter, who scored 427 points in 100 games for Governor's Academy, helped the U.S. Women's Olympic Team to a 5-2 exhibition win over the St. Sebastian's boys team on January 5, 2014.
(Photo: Dave Arnold Photography)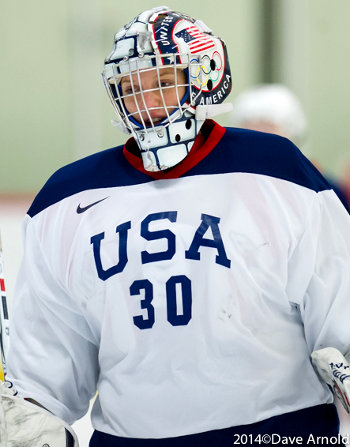 Molly Schaus, former Deerfield and BC goaltender, is back for her second trip to the Olympic games.
(Photo: Dave Arnold Photography)