Sun. 3/8/15

St. Paul's, Rivers are the 2015 Champs
Sunday March 8, 2015
At the Berkshire School; Sheffield, Mass.

Div. I
St. Paul's 6, Pomfret 2

Div. I Tournament MVP:
St. Paul's senior F Bridget Carey

***
Div. II
Rivers 5, Southfield 1

Div. II Tournament MVP:
Rivers senior F Jordan Cross


Sat. 3/7/15

2015 Girls Prep Semifinals

Saturday March 7, 2015
at Campus Sites

DI
Pomfret 2 @ Kent 1 (2-OT)
St. Paul's 1 @ Williston 0

DII
@ Rivers 3, Berwick 2
Southfield 6 @ Worcester 2 (Game was played at St. Mark's)


Wed. 3/4/15

2015 Girls Prep Quarterfinals

Wed. March 4, 2015

DI
@ Kent 3, Loomis 1 (empty net goal)
@ Williston 3, Choate 1
St. Paul's 2 @ Nobles 0 (empty net goal)
Pomfret 3 @ Tabor 2 (2OT)

DII
@ Rivers 2, Gunnery 1
@ Berwick 3, Proctor 1
@ Worcester 3, St. George's 2 (OT)
@ Southfield 6, Canterbury 2

Sat. March 7, 2015 Semifinal Schedule

DI
Pomfret @ Kent, 3:00 pm
St. Paul's @ Williston, 3:00 pm

DII
Berwick @ Rivers, 2:00 pm
Southfield vs. Worcester, 11:30 am (at St. Mark's)


Tues. 3/3/15

2015 Girls Prep Playoff Schedule

Wednesday, March 4 -- Quarterfinals -- at Campus Sites

Div. I
#1 Kent vs. #8 Loomis, 5:00 pm -- @ Kent
#2 Williston vs. #7 Choate, 4:15 pm -- @ Williston
#3 Nobles vs. #6 St. Paul's, 3:00 pm -- @ Nobles
#4 Tabor vs. #5 Pomfret, 4:15 pm -- @ Tabor

Div. II
#1 Rivers vs. #8 Gunnery, 5:15 pm -- @ Rivers
#2 Worcester vs. #7 St. George's, 2:30 pm -- @ NESC, Marlborough, Mass.
#3 Southfield vs. #6 Canterbury, 3:00 pm -- @ Southfield
#4 Berwick vs. #5 Proctor, 4:00 pm -- @ Berwick

Saturday, March 7, 2015 -- Semifinals -- at Higher Seeds

Div. I
#1-8 winner vs. #4-5 winner
#2-7 winner vs. #3-6 winner

Div. II
#1-8 winner vs. #4-5 winner
#2-7 winner vs. #3-6 winner

Sunday, March 8, 2015 -- Championship Games -- at the Berkshire School

Div. II -- 12:30 pm
Div. I -- 3:00 pm


Sun. 3/1/15

2015 Girls Prep Tournament Seeding

Here is the seeding for the 2015 girls tournament:

D-I
1. Kent (Kent and Williston tied for first, Kent wins tiebreaker)
2. Williston
3. Nobles
4. Tabor
5. Pomfret
6. St. Paul's
7. Choate
8. Loomis

D-II
1. Rivers
2. Worcester
3. Southfield
4. Berwick
5. Proctor
6. Canterbury
7. St. George's
8. Gunnery


Around the Rinks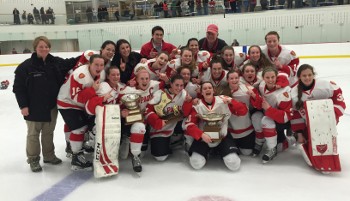 St. Paul's players celebrate their DI Championship.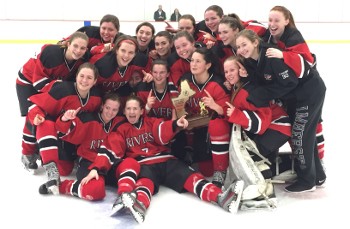 Rivers players celebrate their DII Championship.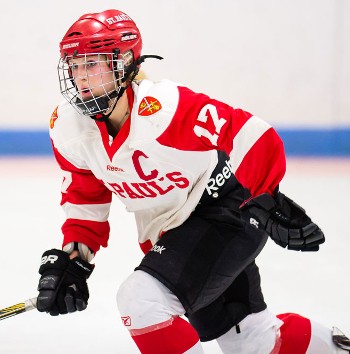 St. Paul's senior F Bridget Carey had the game-winner vs. Nobles and a hat trick in the championship game win over Pomfret.
(Photo: Dave Arnold Photography)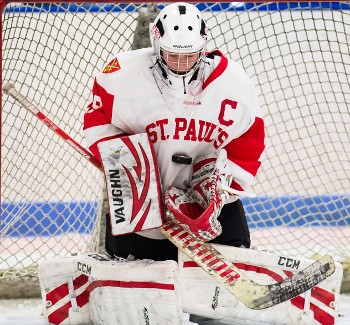 St. Paul's senior G Kerri St. Denis shut out both Nobles and Williston en route to the title.
(Photo: Dave Arnold Photography)